Tweed Visitor Centre
Stop in and say Hi.
---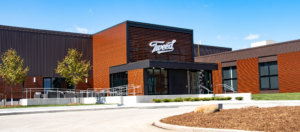 Hi. Friends of the Tweed Visitor Centre,
We have been monitoring the COVID-19 outbreak and paying close attention to the guidance given by the public health authorities around the globe. Canopy Growth's leadership team has made the proactive decision to close our Visitor Centre located in Smiths Falls, effective as of 5:00 pm EST March 17.
We have a responsibility to our employees, their families, and our communities to do our part to "flatten the curve" by limiting social interactions. The decision was easy – our retail teams are public facing and have been serving an above-average volume of transactions in recent days. Given the current situation, it is in the best interest of our teams and our communities to close these busy community hubs until we are confident we can operate our stores in the best interest of public health.
All scheduled tours and events are currently cancelled and will be rescheduled as soon as we feel it is suitable to do so. We apologize for the inconvenience and thank you for your understanding during this time. 
We will provide public updates as we can and we look forward to seeing you all soon
—
The Hershey's chocolate factory was a huge part of the Smiths Falls community from the day it opened in 1963. And we're continuing the tradition. On the same patch of land that once housed Hershey's famous visitor centre now stands a visitor centre of Tweed's own.
The Visitor Centre brought hundreds of thousands of people to Smiths Falls each year and we want to give them a reason to come back. The age-gated facility will be an experience of all things cannabis. Come see for yourself just what all the fuss is about: enjoy a self-guided tour to see real grow rooms, learn about the fascinating history of cannabis, and discover everything there is to know about our favourite little plant.
The Tweed Visitor Centre…your all-access pass to the past, present, and future of cannabis.
Can't wait to see you.
ADDRESS: 1 Hershey Drive, Smiths Falls, ON
HOURS: Monday to Sunday: 10am to 6pm
CONTACT: visit@tweed.com
Disclaimer: Cannabis is not sold at the Tweed Visitor Centre. To purchase our products in Ontario please visit www.ocs.ca, or your local cannabis retailer.