Tweed Visitor Centre
Stop in and say Hi.
---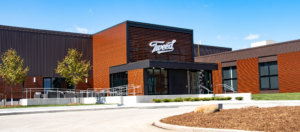 The Hershey's chocolate factory was a huge part of the Smiths Falls community from the day it opened in 1963. And we're continuing the tradition. On the same patch of land that once housed Hershey's famous visitor centre now stands a visitor centre of Tweed's own.
The Visitor Centre brought hundreds of thousands of people to Smiths Falls each year and we want to give them a reason to come back. The age-gated facility will be an experience of all things cannabis. Come see for yourself just what all the fuss is about: enjoy a self-guided tour to see real grow rooms, learn about the fascinating history of cannabis, and discover everything there is to know about our favourite little plant.
The Tweed Visitor Centre…your all-access pass to the past, present, and future of cannabis.
Can't wait to see you.
ADDRESS: 1 Hershey Drive, Smiths Falls, ON
HOURS: Monday to Sunday: 10am to 6pm
CONTACT: visit@tweed.com
Disclaimer: Cannabis is not sold at the Tweed Visitor Centre. To purchase our products in Ontario please visit www.ocs.ca, or your local cannabis retailer.